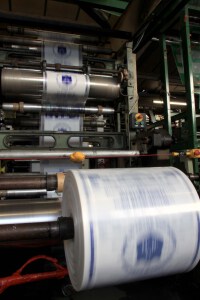 We manufacture a high quality flexible, versatile film for Form, Fill and Seal machinery in different formats providing packaging solution for various industries. Our products have been recommended by manufacturers of packaging machinery including The RM Group, Webster Griffin and Arodo.
A tubular film which is slit on one side for use on Form, Fill and Seal machinery which converts the film into bags immediately prior to the filling operation.
Centrefold Sheeting gives the advantage of greater flexibility on pack sizes and by eliminating the bottom seal provides superior impact resistance to shock load when packing the product. Our material blend is specifically designed to give optimum side seam formation by the customer providing faster production rates.
Layflat Tubing
Layflat Tubing is supplied for use on the most simple type of Form, Fill and Seal machinery where the bag is sealed and cut immediately prior to the filling operation.
The advantage of this method of packing is that the bags are identical in form and strength to those traditionally supplied ready to be filled by a manufacturer. This is supplied as a tubular film on the reel in all of our Xtrastrong blends.
Quality Products
in a range of film options
Including....
Layflat Tubing
and
Centrefold Sheeting
Bespoke Packaging
designed for you
In key Industries....
Building & Construction
Animal Feed, Chemical
Fuel and more….
Large manufacturing capabilities